Day Spa
Massage in Eureka Springs
---
Duet Massage
Room for two!  Your very own private spa room for you and another.  The duet encourages unity, connection and collective calm.  Ease stress and unwind as two therapists perform side-by-side 60 minute Swedish full body massages that help the two of you relax.
Two 60 minute Swedish massages~$190
---
Stress Fix Massage
Clinically proven to reduce feelings of stress, the Stress-Fix™ aroma with Lavender, Lavadin and Clary Sage is incorporated throughout this body massage that combines Swedish and deep tissue massage techniques with foot reflexology, acupressure points and a guided meditation to calm and rejuvenate you.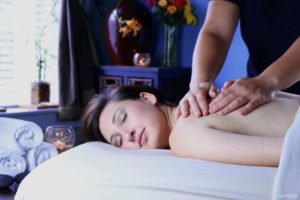 ---
Traditional Massage
A traditional massage customized for you using long flowing strokes that warm muscle tissue, increases circulation, and releases stress by bringing the body into balance.
30 minute – $55
60 minute – $95
90 minute – $135
Add $15 per hour for Deep Tissue
---
Chakra Balancing Massage
The Chakra ™ Balancing Massage is an innovative treatment that incorporates Aveda's Chakra ™ Balancing Blend Aromas and focuses on the seven chakra centers in the body using a variety of massage techniques, including deep tissue, foot reflexology and energy work.
---
 Hand and Foot Treatment
Soothe those tired hands and feet with a relaxing salt scrub, ultra-luxurious hand and foot massage followed by a hydrating cream.
---
Hot Stone Massage
Experience the power of aromatic oils used in combination with a smooth stone massage to balance, soothe, and invigorate the body.
60 minute- $135
90 minute- $175
---
The Mini Relaxation Facial
This facial includes a cleansing with a towel steam, facial mask, and a relaxing facial massage.  Improves the level of hydration and restores balance to the skin.  This is a great introduction to skin care.
The Relaxation Facial
This facial includes a deep cleansing, toning, exfoliation with a towel steam, facial mask, facial massage, and a hand and foot massage.  A blissful facial experience especially developed to deliver a gorgeous, glowing complexion whilst ensuring you are indulgently pampered.
---
Anti-Aging Body Wrap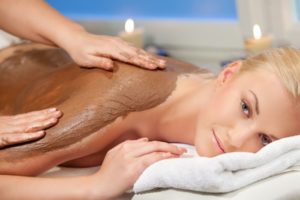 All Wraps include dry exfoliation, scalp Massage, hot towels, and a foot massage.  The Seaweed and French Green Clay Mud Masque is stimulating and detoxifying. Rich concentrations of algae, minerals and vitamins derived from active seaweed varieties harvested off the Brittany Coast of France. The masque is designed to be massaged into the skin, resulting in skin stimulation, firming and detoxification.
---
Rejuvinating Body Scrub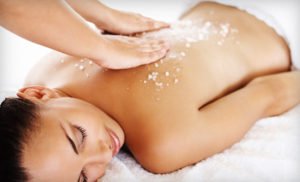 Reveal soft radiant skin, using an invigorating blend of Sea salt and pure, mineral rich Dead Sea salt, ayurvedic oils, and natural Vitamin E.  This scrub will gently smooth away dryness and give your skin a beautiful, healthy glow.